 Lakhimpur Kheri violence: UP cops get remand of minister's son for 3 days | India News
BAREILLY: UP Police were on Monday granted three days' remand of Union minister Ajay Mishra's son Ashish, who was arrested five days after being booked for killing four farmers at Banbirpur in Lakhimpur Kheri on October 3. He was later booked for killing a journalist at the site as well. Police had sought 14 days' remand to question him.
"The identified accused Ashish Mishra, aka Monu, was arrested on October 9 and sent to the district jail. Police requested the court for a 14-day remand to investigate all evidence in the case. The court of the chief judicial magistrate, Lakhimpur Kheri, on October 11 granted three days' police custody remand beginning on October 12," senior prosecution officer SP Yadav said on Monday evening.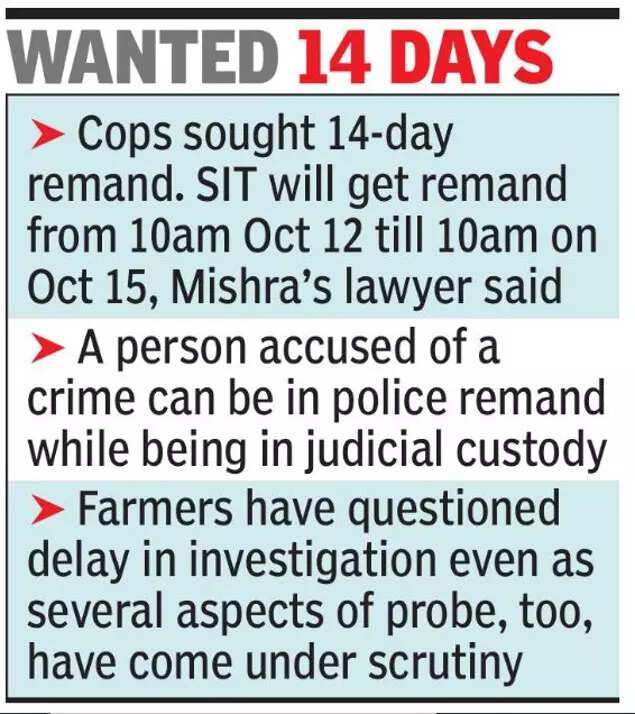 A person accused of a crime can be on police remand — where cops can take him to various locations pertinent for investigation, compare notes and question him — while being in judicial custody.
Ashish was produced in the court of chief judicial magistrate Chinta Ram in a virtual hearing. The court asked police to conduct a medical examination, ensure Ashish is not under duress and allow his counsel to be present. "A panel of five advocates has been allowed to accompany Ashish as long as he is on remand. The SIT will take remand at 10am on October 12. It will be over at 10am on October 15," Ashish's counsel Avdhesh Kumar Singh told TOI.
Heavy forces were in place around the district jail and the court on Monday, and RAF jawans marched through the streets of Lakhimpur.
Protesting farmers, on the basis of whose complaint Ashish was booked, have said he was in one of the vehicles that ran over farmers on the day of the violence. Both Ashish and his father have denied this, maintaining that he was not at Banbirpur at the time of the killings. During the 12-hour questioning at Lakhimpur Kheri crime branch office on Saturday, however, he could not explain where he was between 2.36pm and 4pm, a member of the SIT investigating the violence had told TOI. The violence took place around 3pm. He had been sent to 14-day judicial custody on Sunday and sent to Lakhimpur district jail. Police, then, wanted remand to be able to question him.
Farmers have, meanwhile, questioned the delay in investigation. Several aspects of the probe, too, have come under scrutiny. About the five days it took for the arrest, Supreme Court lawyer Shobha Gupta explained that a lot depends on "prima facie evidence". She said, "Usually, police or the investigating team put in their best efforts and even follow from state to state a murder accused, to be arrested immediately. They certainly need prima facie evidence to frame an opinion that the person accused has committed the act. Without even that, it is unsafe to arrest anyone. But it is equally unsafe to allow the culprit to roam free if there is enough prima facie material against them."
About the summons issued by the SIT before arrest, Gupta said, "The question of notice does not arise if there is enough material to frame a prima facie opinion that (person) A has committed murder. Section 41 of the CrPC permits direct arrest." She added, "Notice is given under Section 160 of the CrPC, the heading of which clearly says, 'police officers' power to require attendance of witnesses'." As for the presence of lawyers during interrogation, she said, "Section 41D, which was inserted with effect from November 1, 2010 in CrPC, requires as a mandate that the arrested person shall be allowed to meet their lawyer during interrogation but not throughout… I think this permits the lawyer to be around and not part of the interrogation."